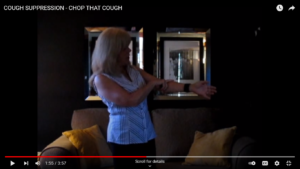 Here is a Super Duper Tip for Suppressing that Annoying Cough using a Simple Acupressure Technique.
More videos are available on the Youtube channel and on Blogspot. (A new Blog Platform is in the making – stay tuned).

RELIEF AT YOUR FINGERTIPS
is now booking. 2 hours or tailored down to suit your group or conference.
DRUG-FREE TECHNIQUES FOR FEELING YOUR BEST
Learn to Press Your Points instead of Pushing Your Buttons. This enlightening and educational seminar is packed full of simple needle-less acupoint techniques to enhance your physical, mental, and emotional well-being.
Can't sleep at night?
Don't take a sleeping pill that will leave you groggy for the next morning's business meeting. Learn the acupoints that help you to drift off to sleep naturally.
Feeling a bit muddled and can't think clearly?
Learn how to activate your brainpower.
Simply exhausted and need to perk up for the next meeting?
Don't use another cup of coffee and get an acid stomach and all jittery.
Learn the acupoints for overcoming exhaustion in a pinch.
Rocks in your shoulders or tension in your neck?
Learn the acupoints that can relieve muscular tension and stiff necks.
Feeling nervous?
Learn the acupoints that calm and soothe the nerves.
Struggling with addictive behaviors or blue moods?
Learn acupoints to help you control your cravings.
Do you have pain, concentration problems, or feel tired or frazzled?
YES- EVERYONE NEEDS THIS INFORMATION!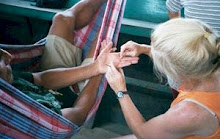 From the urban business landscape to the exotic Peruvian jungle Patricia Gilmore captures audiences while sharing powerful techniques for feeling and being the very best. 
As a practitioner, international speaker, and CEO of PAWHA Patricia not only uses powerful techniques she brings them to the rainforest.
*******INTERVIEW*******
Patricia – I understand that you are an international speaker but what is it that you actually speak about?
PATRICIA IS CURRENTLY IN CENTRAL FLORIDA, USA AND IS BOOKING SPEAKING ENGAGEMENTS.