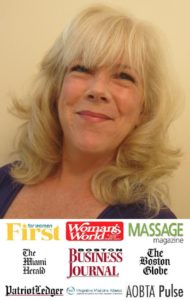 Patricia is truly passionate about empowering people to get the information that they need to make the best choices. Her specialty is to take the complicated and make it simple, not by "dumbing" it down but by teaching in analogy and with stories. After a workshop with Patricia, you not only "get it" you can pass your newly gained knowledge to those that you love. All of her techniques and tips are simple to use and require no medications, herbs, or supplements. She is dedicated to freeing people from their dependence on pills and potions.
She began teaching wellness workshops in 1996 in the United States. In 2000 Patricia formed the Pan American Whole Health Alliance and brought trainings to Mexico and Peru working along the small tributaries of the Amazon river. In 2006 she set up a South American branch of her private practice and facilitated her very special style of workshops in Argentina, Uruguay and in 2011 she expanded her venues to Spain and Italy.
"People are people no matter the location and they all need this information. The techniques I teach are incredibly powerful yet simple. It gives me no greater joy than to watch the empowering force that comes over a person by the end of a workshop."
Patricia is also an author and an artist and teaches Therapeutic and Environmental Art.

Visit her EnviroArt website, Getin2nature.com, and her Group Art Session pages here on this site for more information.
THERAPIES
Patricia specializes in Chronic Pain Relief and Hormone Imbalances. She is not a medical doctor, She is a therapist. She is board certified in all the modalities that she uses. She uses a blend of therapies based in western and eastern trainings. These modalities are powerful, fast, and require no drugs, supplements, or needles.
POINT THERAPY
Acupoint therapy is a centuries-old modality based in Asian Medicine. There are various forms of Acupoint therapy such as acupuncture (where needles are inserted into the Acupoints), acupressure (where pressure is used), shiatsu which is a form of bodywork where points on the lines of energy (meridians) are pressed, and finally what Patricia practices -Needle-less Acupuncture. This may sound confusing but point therapy has been in existence for centuries long before needles were invented. Its concepts are the basis of the healthcare system for 10's of millions of people. Needles are not required. There are several ways you can stimulate points. Needle-less Acupuncture is not just for pain. As it addresses the underlying condition it is used to balance the whole person. You cannot separate the body and the mind. Balance one and you balance the other. Emotional blocks can be moved and physical symptoms cleared as a person is brought back into healthy balance. These are just some of the areas that it addresses; the digestive, reproductive, immune, and respiratory systems, anxiety, depression, that annoying "stuck" feeling, and, of course, physical discomfort. What makes simple acupressure and acupuncture without needles different? Simply said it is the extent of training and understanding of advanced techniques, theory, and application. It is not based on symptoms. Having been trained by acupuncturists I assess as a Traditional Chinese Medical professional.
HYPNOTHERAPY
The American Medical Association (AMA) recognized hypnotherapy as a valid therapeutic modality as far back as 1958. Since that time hypnosis has become widely accepted as a powerful tool for developing optimum health. Former president of the British Society of Medical Hypnotists, S. J. Van Pelt states: "Nobody can deny that hypnosis is the most powerful and effective method of controlling the mind, and through the mind, the whole body."
CERTIFICATIONS AND ASSOCIATIONS
Patricia utilizes and incorporates Asian Medical techniques with Western Mind Science. She is a Board Certified Medical and Master Clinical Hypnotherapist and an Acu-point specialist. She has trained in the Kiiko Matsumoto style of Acu-point therapy with David Euler, and other world-known masters such as B.J. Wang, Koei Kuahara, Cliff Andrews, Lu Wei Dong, Bill Tara, and George Bien. Her certifications are through the American Board of Medical Hypnotherapy, the American Board of Hypnotherapy, the International Association of Counselors and Therapists, and the American Organization for Bodywork Therapies of Asia.
In addition, Gilmore is the founder of PAWHA.ORG – the Pan American Whole Health Alliance bringing complementary healthcare training into poor rural areas of North, South, and Central America and the Caribbean islands.
During the last 25 plus years Patricia has been involved in the study of Mind/Body Science with an aim to teach others how to improve their lives. An author and active teacher and international speaker, Patricia has taught literally thousands of people the skills and techniques to reach and maintain wellness. If you would like to schedule a call with Patricia or find out more information regarding her public appearances or speaker's rates please email pattgilmore @gmail.com
LISTEN TO AN INTERVIEW WITH PATRICIA AND FORMER USA AMBASSADOR ALVIN ADAMS